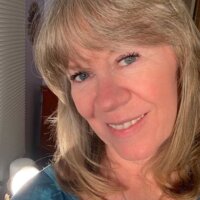 Kathleen has been involved in the 'alternative world' for over 40 years. That includes home births and practicing midwifery for several years. She is a Reiki Master, practices Donna Eden Energy Medicine, Touch for Health (Kinesiology), Reflexology, Cupping, Ear Candling, Sound Healing along with other healing modalities. She is currently studying with a a Shaman and learning/practicing Shamanic Healing. She has a lot of life experience (including raising 6 kids and enjoying 16 grands!, The 17th is on the way!) and still loves life with a passion!
Kathleen is now offering Transformational Life Coaching. She has been certified for several years and is enjoying The Work and watching people grow, transform their lives and genuinely find peace and joy along with so many other positive changes in their lives. In her almost 64 years of living a very full life she has acquired so many life skill, growth and awareness that she is compelled to share with anyone that wants her help. Her mission is to help people understand the Universal Laws of Attraction, Allowing, and. Vibration and how they affect every area of our lives
Kathleen's face will be on the other end of the phone when you call sometimes and the one that will greet you with a smile when you come to enjoy some of life's greatest pleasures!