Infrared Sauna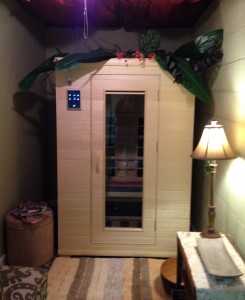 An infrared sauna is a type of sauna that uses light to create heat. A traditional sauna uses heat to warm the air, which in turn warms your body. An infrared sauna heats your body directly without warming the air around you.
Infrared saunas are an effective tool for natural healing and prevention. Infrared light has the ability to penetrate human tissue which in turn produces a host of anti-aging health benefits making infrared saunas one of the "hottest" therapies for overall healthier living. If you want to get yourself back into balance, an infrared sauna may be the ticket to achieving your wellness goals.
Benefits include: Detoxification, Anti-Aging & Skin Purification, Pain Relief, Relaxation, Cell Health, Improved Circulation, Lower Blood Pressure, Weight Loss, Wound Healing, Immune System Boost
Check with your physician as studies indicate that you should avoid sauna use in the case of:
• Stroke (type caused by bleeding into the brain)
• Severe aortic stenosis
• Recent myocardial infarction (heart attack)
• Unstable angina pectoris
• Lupus erythematosus, if you are on steroids (interferes with blood circulation)
• Brain tumors
• Multiple sclerosis
• Silicone implants
30 minutes: $35
30 minute add-on to other service(s): $25
30 day unlimited use (1st month introductory): $89
30 day unlimited use (ongoing): $125
Package of 5 (1 year expiration): $125
1st time visit: $25

No refunds are provided for unused packages or gift certificates.