Crazy Fit Massage Powerplate
A health and fitness machine which can provide the following benefits: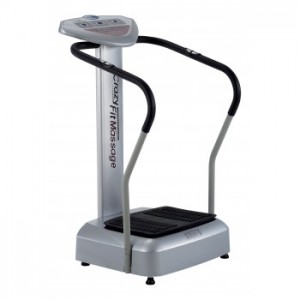 SLIMMING: Consume the unwanted fat on the hips, waist and abdomen by vibration and massage technique thereby firming the skin tone and reshaping the body.
IMPROVES BLOOD CIRCULATION & METABOLISM: Frequent vibration by Crazy Fit spurs circulation of blood therefore opening the veins and dissolving the detrimental toxins which are evacuated by the higher metabolism rate.
REDUCES CELLULITE: By increasing the blood circulation this breaks down cellulite.
STIMULATES INTESTINE: Stimulates intestines and thus helps with constipation by massaging the points according to ancient Chinese medical theory.
ENHANCED IMMUNITY: Keep fit and enhance immunity by enhancing local circulation of blood.
REGULATES THE NEURAL SYSTEM: Improves conductive ability of nerve cells and regulates the neural system and mitigates neurasthenic (a psychological disorder characterized by chronic fatigue and weakness, loss of memory, and generalized aches and pains, formerly thought to result from exhaustion of the nervous system).