Welcome to our website
Your experience at RHA will provide a place of no stress, a place void of interruptions. A therapist completely focused on providing you with professional bodywork that merges technical knowledge with years of experience and a multidisciplinary approach. The bodywork you will receive is personalized to your body's own present needs. Walk into a welcoming reception area paired with gorgeous, spacious, and tranquil massage rooms. your practitioner will be using only the finest therapeutic oils to enhance your over all well-being. For a peaceful and relaxing transition, enjoy a cup of tea accompanied by a sea salt and essential oil foot soak.
Our mission is to make every massage successful by reducing and releasing muscle tension. Our services use only high quality products and educated practitioners. Our commitment is to provide a peaceful, relaxing atmosphere while promoting balance, harmony and well-being.
Learn more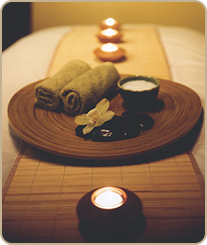 Working Hours
8:00 am to 9:00 pm
9:00 am to 6:00 pm
10:00 am to 4:00 pm
12:30 pm to 6:30 pm
8:00 am to 12:00 pm

For Appointments Call
Hours are by appointment only
Working Hours
8:00 am to 9:00 pm
9:00 am to 6:00 pm
10:00 am to 4:00 pm
12:30 pm to 6:30 pm
8:00 am to 12:00 pm

For Appointments Call
Hours are by appointment only

News & Events
Healing the Planet
October 4, 2017 from 7:00 pm to 9:00 pm. Join us for a meditation experience to help heal the planet. We will select an earth location or condition to focus on and then, through meditation, we will connect to source with the Ascended Masters who will guide us in bringing energy to the earth planeLearn more
Master Choa Kok Sui's Pranic Healing system and Spiritual Teachings
September 20, 2017 7:00 pm to 8:00 pm Join us for an introductory session on the Pranic Healing System and Spiritual Teachings of Master Choa Kok Sui. Pranic Healing has been used to heal as well as to prevent and maintain the well being of individuals and it has significantly helped thousands of people globally.Learn more
RHA featured in Michigan Homes Article
Find Customized Therapeutic and Spa Treatments at Rochester Holistic Arts Rochester Holistic Arts classes and services center on prevention and wellness through massage, naturopathic medicine, craniosacral therapy and various spa treatments. Located in Rochester, Michigan, the studio reinforces the self-healing powers of the human body. michiganhomes.com http://www.michiganhomes.com/articles/find-customized-therapeutic-and-spa-treatments-at-rochester-holistic-arts
View More Posts
Contact Us
118 Terry Ave. Suite A,
Rochester MI 48307
Phone: (248) 330-9569
Subcribe